You have been invited to
LLV Xperience Cap D'Agde 2021
Edit Profile
Cap d'Agde, Agde, France
8 DAYS
SUN 25 JUL 2021

- SUN 1 AUG

(UTC-05:00)
Register before 25 Jul 21 to hold your spot
Hotel Takeover /Only Couples/ 7 Nights- 8 Days
Le Jardin d' Eden is one of the latest and newest developments within the naturist village in Cap d'Agde in the South of France.
Le Jardin D'Eden – The best lifestyle location in Agde! is a delightful oasis of Lifestyle people and activities; located right at the heart of the Village and only a few minutes' walk from the magnificent peoples' United Nations that is Marseille Beach – in French, La Plage.
The beach isn't but should be, a World Heritage Site – there's so much to see and do!! Seriously, it rocks; trust us, wherever you are in Lifestyle – the beach accommodates your tastes – and you'll hear and see the libertarian peoples of the world perambulating its 4 miles of magnificent Mediterranean shoreline; it's like cruising the Miracle Mile – walking along the wave-lapped sands and it is one of The places to be seen in the late afternoon. And the sand dunes.
Eden's beautifully planned landscaping focuses all energies at the pool – where we'll enjoy pool parties, afternoon "fun and games" and cracking music and dancing.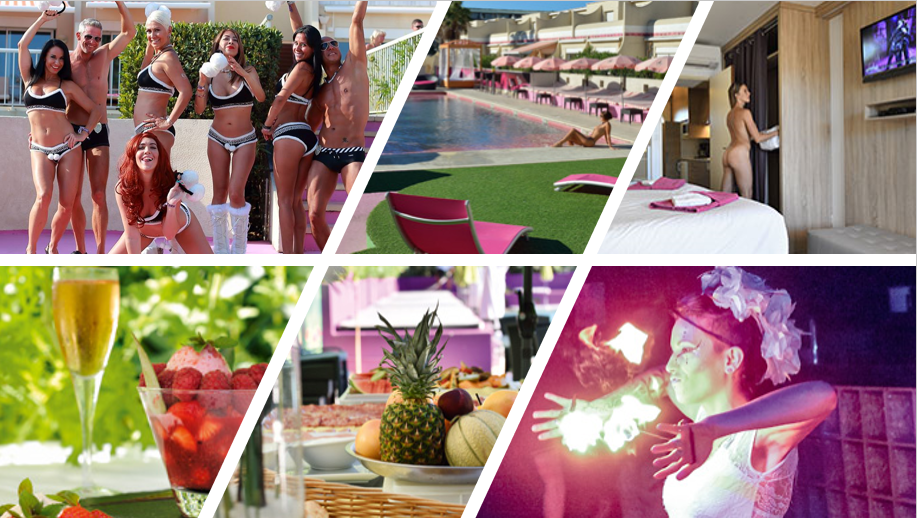 This 65-apartment luxury residence, dedicated to couples, is just a stone's throw from the beach and has its own bar and restaurant, pink private heated pool, and a large jacuzzi. 

Coming from any part of the world, from different backgrounds! Come and enjoy with LLVClub where everybody meets to celebrate!